Tonasket SDA Church is sponsoring and organizing a short-term mission trip to Holbrook Indian School in Arizona the first week of January 2023. We believe that Jesus is coming very soon and time is short.
In less than 14 days, 24 volunteer short-term missionaries will be in Arizona working on four different projects. 
Painting the interior of the Holbrook SDA church 
Organizing and painting the campus library 
Classroom assistance
Semester Jumpstart (Week of Prayer)
Share the gospel
The Semester Jumpstart will be an excellent opportunity for our team to present and discuss bible truth with the students!
"Go ye therefore, and teach all nations, baptizing them in the name of the Father, and of the Son, and of the Holy Ghost: Teaching them to observe all things whatsoever I have commanded you: and lo, I am with you alway, even unto the end of the world. Amen" Matthew 28:19, 20
Build long-term relationships
Both in our team and most importantly with the students!
"Seeing ye have purified your souls in obeying the truth through the Spirit unto unfeigned love of the brethren, see that ye love one another with a pure heart fervently." 1 Peter 1:22
Create a sustainable change
"And they that shall be of thee shall build the old waste places: thou shalt raise up the foundations of many generations; and thou shalt be called, The repairer of the breach, The restorer of paths to dwell in."
Isaiah 58:12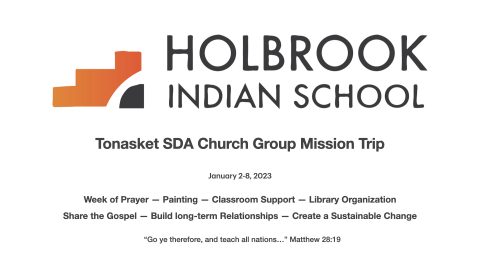 As we come to the last few days before the mission trip I have two requests:
1. Pray For:
our team
the work we will be doing with the students
travel safety 
each presenter and group discussion leader as they prepare their hearts, minds, and presentations for the Semester Jumpstart
the staff at Holbrook
God to be glorified during this mission experience 
Please click here to make your tax deductible donation. 
We will be posting updates during the mission trip. Mission Trip 2023 Updates Share this link with family and friends. Thank you for your support!
---
By Aaron Leffler
December 19, 2022